Although taken from almost opposite directions, there are still many differences you can plainly see in the two photos of Sligo from the air. Each photo is numbered 1 through 5.
1) At the top right of the first map (1984) you can see the old municipal swimming pool located on a small point just outside town. On the lower map, this point is located at the bottom of the picture just to the left, where the new bridge joins the old Sligo-Bundoran road. Even with this bridge, traffic problems still plague the town.
2) Across from the pool was Markievicz House, standing alone. Today, the house is surrounded by several new buildings and run by the Northwestern Health Board.
3) Back in the 80's, this area was a large coal yard. Ships docking at the quays would unload mountains of coal, which was distributed by truck. Today, the coal yard is empty and pristine and is adjacent to the new road out of Sligo. Notice the building adjacent to the vacant coal yard, these are new apartments.
4) In the old picture, you can clearly see old buildings on the river next to the bridge. In the photo from today, you can see the large new white building that runs along the riverfront.
5) Finally, the white building in the 1984 photo is the Gaiety Cinema. To its immediate left as you look at the photo are the office of the Sligo Champion newspaper. In the new photo, you can see extensive building going on which include an expansion of the Gaiety, a new shopping centre and car park.
Although not really clear from the photo, the area around the river was neglected for years. Finally, a walk way was built that ran along the river front and allowed pedestrians to take a short cut across town, but the walk was lined with derelict warehouses. Finally in the 1990's this area was totally redeveloped and is today, a busy corridor of business with cafes, shops, and restaurants. Sligo has come a long way!
1984 Photo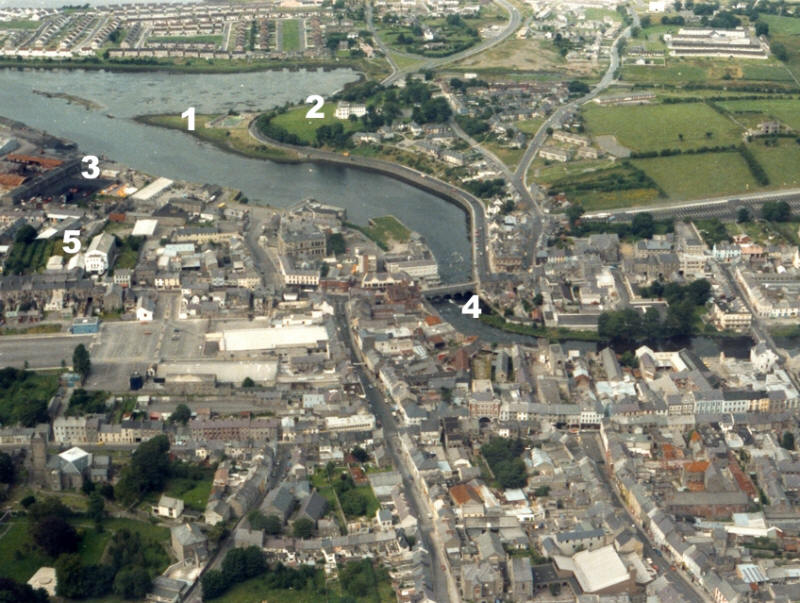 ---
2004 Photo