The 1970s - All Ireland Champions
In 1970, All Stars arrived on the International scene when they played host to Slovan Orbis, a team from Prague. The game was played on the outdoor court at Mercy College in Sligo. Despite the primitive conditions, the game not only gave the team a taste of what was to come, but also introduced Sligo fans to the game of basketball in a major way.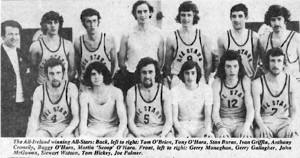 In the early years, Sligo's successes were mostly limited to Connacht, where their players dominated the scene for over a decade. It wasn't until 1971, however, that All Stars took centre stage on the National scene by beating National Champions, St. Vincent's, on their way to winning the National Invitational Blitz in Dublin, their first major tournament title. A little over a year later, All Stars would win their first All-Ireland title, capping a decade of continued success under founder Tom O'Brien.
Throughout the seventies, All Stars continued to challenge the best teams in the country, winning tournaments and finishing as runners up in the national Cup in both 1974 and 75. However, they would never reach the dizzying heights they had in the early 70's. During this early period, no less than 19 members of the All Stars represented Ireland at all levels from Juveniles to the Senior squad.